Our 2nd event of the season was held at the WOW Zone in Mankato, MN offered another test to our athletes as the tried to navigate a modified PBA Chameleon pattern that was used at Junior Gold in 2007. A BIG THANK YOU to the entire staff at the WOW Zone for the hospitality for our athletes the entire weekend.
On the girls side, CONGRATULATIONS to Cassidy Courey for her 1st title of the season.  The title match was a battle between the #1 seeded Hannah Triske, who came up just short, needing a double in the 10th and throwing a great shot under the pressure, but leaving a stubborn 7 pin, which lead to a final score of 199 to 190. The girls started the stepladder with Ashley Lang edging out Lynn Piekarski and Hana Roers (180-178-153). The 2nd match starting the title trail for Cassidy, as she won comfortably 194 to 156, over Ashley. The semi-final was another easy win, as Cassidy dominated with a 230-178 win over Rachel Dahlin.
For the boys, CONGRATULATIONS to Garrett Anfinson for winning his 1st MJBT title of his career! This is back-to-back months where the boys side has had 1st time titlists. The title match had the #5 seeded Anfinson against the #1 seed Drew Dietrich, and Garrett had the lead most of the way, as he cruised to a 214-193 win. The boys stepladder started with Garrett's title run, as he narrowly got by Hunter Pomije and Nicholas Munson (208-202-181). The next match had Garrett continuing he title march as he defeated Jared Durant 184 to 156.  The semi-final pitted last year's MJBT Player of the Year, Max Roers, but again Garrett prevailed 222 to 197.
Thank you to the WOW Zone for hosting the MJBT this month. A very big thank you to all the parents that help out in making sure that our tournament runs as smoothly as possible. A BIG SHOUT OUT to our sponsors: MOTIV bowing products and the Minnesota Bowling Proprietors Association for their ongoing support for youth scratch bowling!!
---
mjbtdirector@gmail.com or 612-916-0849
Membership Renewal Reminder
USBC – Renewed annually through your local bowling leagues. Membership year from August 1 – July 31 of current season.  Not available for purchase through MJBT
Junior Gold – Renewed annually at cost of $30, also runs August 1 – July 31.  Must be paid prior to/along with the first JG event you participate in each season. Can be purchased through MJBT.
MJBT – Renewed annually at cost of $25. Good for the season in which it is purchased. This goes to offset expenses to run our event, much going back toward scholarships.
2018 – 2019  Tournament Results
September 2018 – WOW Zone
CHAMPIONS: Cassidy Courey and Garrett Anfinson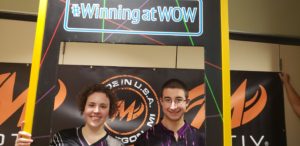 August 2018 – Cedarvale Lanes
CHAMPIONS: Jordan Monnens and Hana Roers